Web exclusives
Web exclusives
Web exclusives and photo galleries
Rowan's FIRST first responders
The Rowan EMS archive starts with a photo of the squad's founders and continues with images from 40 years of service, progress and camaraderie. Click through the gallery below for more photo memories and contact EMS chief and advisor Vern Howery: howery@rowan.edu, for more information about the history and future of Rowan EMS.
Click to support Rowan's first responders.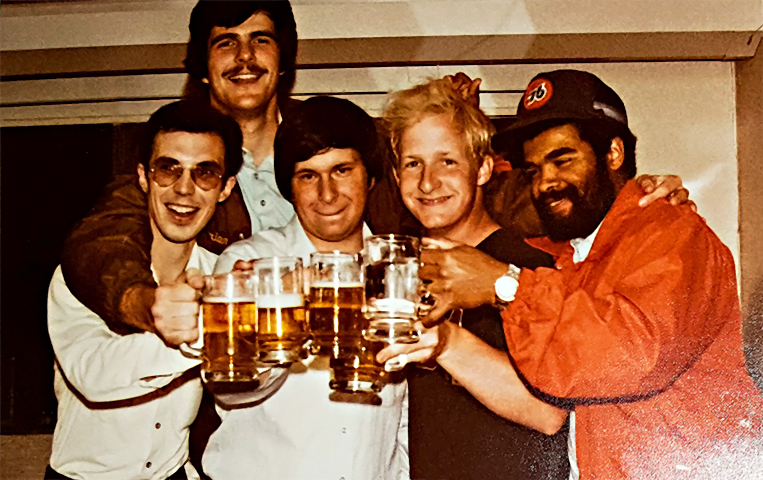 Glassboro State First Aid Squad charter members John Zenuk, Brian Hall, Joel Gordon, Bob Swenson and Dave Brown. 
Current EMS members hosted alumni in May at the Carriage House where GSFAS began.
Seated: Rick LaFever, Ann Taussig LaFever. Standing: John Brittin, Colleen McChesney, Joel Gordon, Sal Toppi, Anita Andrew Rose, Leah Rubenstein Cinman, Alan Kravitz, Jared Sousa, Jessica Kozlowski. 
RCHGS study abroad photos
The Rowan Center for Holocaust and Genocide Studies offers regular study abroad programs dealing with the Second World War and the Holocaust. These programs, specially designed and led by Rowan faculty from RCHGS, enable students to visit and study sites related to these important events. Few experiences are more life-changing than seeing the places where these tragedies took place, connecting with the past to inform the present and future. The students pictured below accompanied "The World War II in Europe" tour, which took them to England, France, Belgium, and Germany, and to sites ranging from London's Churchill War Rooms, to the Shoah Memorial in Paris and Dachau concentration camp near Munich, Germany.