Feature: Special needs, special care
Feature: Special needs, special care
Special needs, special care
Finding comprehensive primary and behavioral health care for people with intellectual and developmental disabilities can be an impossible task. A special-needs center is teaching future doctors how to fill the gap.
Ashley and Clarissa Olson are miracles. Born just 26 weeks into their mother's pregnancy, the Millville twins received the best care modern medicine could offer: six months in a neonatal intensive care unit to let their tiny lungs develop, followed by two decades of follow-up with a highly skilled children's health system to manage complications related to their premature birth: cerebral palsy, visual impairments and autism spectrum disorder.
And, then at 21 years old, the girls aged out of the pediatric system.
"That's when everything started going downhill," said their mother, Clarissa Cossaboon, who struggled to find appropriate health care providers for her daughters throughout their 20s. For years, one twin couldn't get the right medication for her severe anxiety. Her sister could only get weighed at a hospital during a rare wheelchair fitting, because their primary care doctor's office lacked an accessible scale.
"Something as simple as that, we couldn't get," Cossaboon said.
That changed when Rowan University School of Osteopathic Medicine opened southern New Jersey's first primary and behavioral health care center for individuals with intellectual and developmental disabilities and their families.
Staffed with a physician, a psychologist, a psychiatrist, social workers and more, Rowan Integrated Special Needs Center at Rowan Medicine's new Sewell facility serves adults and adolescents, ages 14 and up, drawing patients from New Jersey, Pennsylvania and Delaware.
The fully accessible center focuses primarily on the most vulnerable patients—individuals with autism, brain injuries, Down syndrome, intellectual disabilities, cerebral palsy, and other complex conditions originating in childhood, with a focus on care through adulthood. The practice also cares for the caregivers, who often neglect their own health needs to concentrate on their loved one.
Overlooked, underserved
Historically, people with intellectual and developmental disabilities have poorer health, shorter life spans and less access to high-quality medical care. Children with disabilities transitioning into adulthood often encounter major barriers to adequate medical care and few primary care practices are fully accessible or properly equipped to treat them.
Accessing basic medical care like routine cancer screenings, gynecological exams and bloodwork is a challenge for patients with intellectual and developmental disabilities, who are at an increased risk of developing common conditions like diabetes, hypertension and cardiovascular disease.
Roughly 35 percent of people with intellectual disabilities also have a co-occurring mental health challenge, according to The NADD, an international association for people with intellectual and developmental disabilities and mental health needs. In New Jersey, few behavioral health practices accept Medicaid, the most common insurance for patients with special needs. That means psychosocial services are often out of reach for families who need it most.
Coordinating care
Embedding behavioral health and care coordination into primary care for patients with special needs—as well as their caregivers—"is unique across the health care system," said Dr. Jennifer LeComte, RISN's founding medical director.
"Often, people come to RISN Center thinking that they need psych care," LeComte said. "What they really need is just comprehensive care and
a safety net for all their worries. That often leads to not needing psych care."
For patients with disabilities, good primary care is an elemental and often unmet need.
For more than a year, 42-year-old Jade Le of Pennsauken experienced strange episodes that left her unable to speak for long stretches of time. Some doctors told her mother they thought it was another result of her body's inability to get rid of excess copper, a rare genetic condition called Wilson's disease. In its advanced stages, the condition causes muscle spasms and pain, as well as damage to the brain, liver and other organs.
Le's 36-year-old brother, Hieu Le, suspected something else was going on and pushed for better answers. Eventually, tests revealed the real cause behind Jade's silence: a urinary tract infection left undiagnosed and untreated.
It was just one example of the many hurdles the Le family has faced since moving from Bayonne. Insurance barriers and a lack of providers near their South Jersey home led to frequent two-hour trips to North Jersey for Jade's medical appointments.
The Le family found RISN about a year ago, after searching for a provider who could manage Jade's psychiatric medications. The Rowan team switched her medications, calming her mood swings and tantrums. A social worker helped Jade get her first new wheelchair in 15 years. Work is underway to coordinate her other needs.
"Coming here was really, really nice," said Hieu Le, a business owner who grew up serving as his mother's translator during Jade's medical appointments. "It was good for her."
Psychiatric and psychological care is a critical component of RISN's services.
Throughout her 20s, Ashley Olson used to worry so much about the weather, she would end up in bed, unable to cope. Seeking answers, her mother sought help from a RISN specialist and coincidentally, discovered a primary care practice tailor-made for both twins.
One of RISN's exam rooms includes a ceiling lift to safely weigh and transfer patients who use wheelchairs. The spacious hallways and rooms are wide enough to navigate easily. A restroom features a fold-down changing table, sized for most adults.
A calming room outfitted with a bubble wall, a bean bag chair and color-shifting tiles offers anxious patients a private place to unwind.
Like the rest of RISN's staff, LeComte is warm and effervescent. She pops in to see her patients with an enthusiastic hello and megawatt smile, an instant mood-booster.
"All these people are nice," said Ashley Olson, who, at 33, is now doing so well on her new medications that she's able to help her mother with the laundry for the first time.
Care during COVID-19
The pandemic added more stressors for individuals with special needs, noted Dr. Wendy Aita, a psychologist and the center's co-director. Mask-wearing, social distancing and disrupted routines are especially hard for people with intellectual and developmental disabilities, who suffer higher mortality rates due to COVID-19.
"Virtual learning can be a challenge for students in special education who require a more hands-on approach," Aita said. "Adults couldn't attend vocational and day programming, which was a vital source of respite and support for the individuals and the caregiver alike. As a result, we saw a rise in fear and behavioral health issues among individuals with special needs with a continued need to support their complex medical conditions."
During the pandemic, the center offered telehealth appointments to counsel patients and their families. As soon as COVID-19 vaccines became available, the practice coordinated its own special needs vaccine clinic for RISN patients and their caregivers.
It all requires a great deal of planning, preparation and patience.
At 22, Nicholas Iannuzzelli visits RISN every three months or so to manage a complex list of conditions: a severe form of epilepsy, a nerve disorder, intellectual and developmental delays, autism and a bout with a brain tumor.
LeComte knows how to gently coax the young man away from the bean bag chair and into the exam room. She knows which stuffed toy will soothe him and how to talk him through procedures like a blood pressure check or a needle stick, explaining the procedure and asking for his permission before each step.
"Patients know themselves best," LeComte said. "That's why RISN Center is so patient-centered. You just have to ask the caregiver and the patient themselves. That model is really what we're teaching our students, our residents and our colleagues—to include patients in the dialogue because they will answer the questions for you." 
A training ground
RISN Center aspires to be an evidence-based model of comprehensive care that leads to better outcomes and reduced health care costs. It's also a training ground for medical students, giving them experience they can carry throughout their careers.
Through research, LeComte hopes to demonstrate that RISN's ability to provide inclusive care can be the norm in health care—for everyone.
"The demand far outweighs the supply of providers and physicians who are comfortable caring for this patient population," LeComte said. "Being part of graduate medical education allows us to make more soldiers. Once we build that confidence, patients (with special needs) will be welcomed into practices, as opposed to having to create a clinic or an office just for them." 
---
Kim Mulford '94 is assistant director of Media & Public Relations at Rowan University.
Special care for women's health
The Rowan Integrated Special Needs (RISN) Center serves those needs, too. Recently, the center received a $100,000 grant to increase education and access to gynecological care and screenings for cervical and breast cancer, sexually transmitted infections and pregnancy.Women with intellectual and developmental disabilities (IDD) need sexual and reproductive health care services—but often go without.
"Adults with intellectual and developmental disabilities face significant health disparities in primary and preventative health care," explained Wendy Aita, Ph.D., co-director of the RISN Center. "More specifically, women with IDD encounter several barriers when accessing routine preventative care, including a lack of provider training and experience, and are given few, if any, opportunities to learn about their own reproductive and sexual health."
The 18-month initiative is funded by an Inclusive Healthy Communities Grant from the Division of Disability Services, New Jersey Department of Human Services. The program's goal is to elevate the standard of female health care among patients with IDD, remove barriers and address the disparities in education on sexual abuse and consensual sexuality.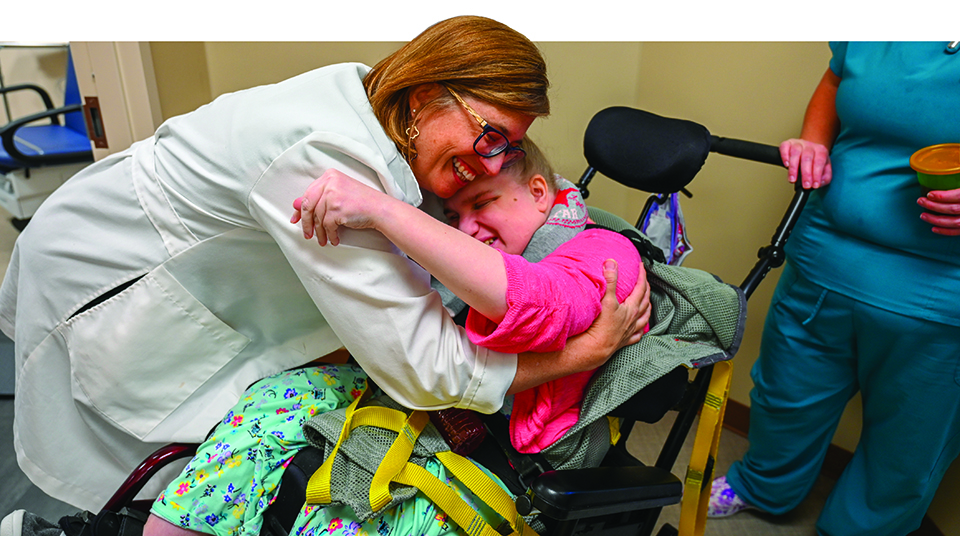 The shot that didn't hurt
For most of his life, Gilbert Thompson did not like needles.
"I felt like my life was in danger back then—that's how scared I was," said the 19-year-old Vineland resident who has autism and schizophrenia. "The only thing I could do was just brave through it. It was terrifying, absolutely terrifying."
When it came time for bloodwork, Gilbert told his mom he wanted to be sedated for the procedure. Dr. Wendy Aita, a psychologist and co-director of the Rowan Integrated Special Needs Center, offered him a better plan: new coping techniques to help him conquer his fear for good.
Her suggestion came just as the COVID-19 vaccines became available.
To help Gilbert prepare for the blood draw, Aita suggested he start with a slightly less scary prospect, a quick shot in the arm designed to protect him from getting seriously ill from COVID-19. She gave him options to help him prepare: a numbing spray to take away the sting or Buzzy, a device used to desensitize the injection site.
The two had a practice session and talked through the process. Aita offered to be there with him on the big day.
On a chilly day in February 2021, Rowan Medicine held its first COVID-19 vaccine clinic at the Stratford medical school for 52 RISN patients and their caregivers. Dozens of medical students volunteered to help, a complex endeavor that required individual care plans for each patient. Therapy dogs and their humans from the Shreiber Family Pet Therapy Program at Rowan University were on hand, too.
When it came time for Gilbert's shot, Aita was there.
"I felt absolutely nothing," Gilbert recalled. "It was like a miracle or something."
The experience gave him the confidence he needed to go through with the blood draw through a LabCorp site located within RISN's practice. He reminded himself that needles weren't that bad. He didn't even need his mom to help.
"Now, I can handle it," Gilbert said. "Sometimes, it's a little nerve-racking. But I can calm myself down so much easier now."