Then & now: 1969-2019
Then & now: 1969-2019
Then & now: 1969-2019
The legendary cultural chaos and progress of '69 can overshadow memories of everyday life 50 years ago, even if it's just the tip of the global history iceberg.
In the U.S., the moon landing, Woodstock, Stonewall and Vietnam War dominated the news, framing everyday discussions and decisions. Beyond our borders, the Beatles performed their finale and Biafra and Northern Ireland made tragic headlines.
With 50-year-old yearbook photos (from actual film and darkroom chemicals), we recall the way things were on the campus that 3,939 students called their own, when Rowan University was Glassboro State College and GSC's sole purpose was to educate teachers.
The Oak's editors took what they called a "radical" step to omit the college's 324 faculty from the yearbook and "concern itself only with the students and their activities outside the classroom." With that audacious departure from the norm, they left us with a 240-page diary of student life that seems
at once familiar and foreign.
Wistful for then? Grateful for now? Maybe these photos can allow for a little of both.
---

Who's hungry? All students except commuting seniors had to eat on campus 50 years ago and a two-meal-a-day plan for a semester would set student diners back $198. The card allowed for some special dietary requests, but it was a one-trick pony, good only for food service.
Today, the reloadable RowanCard gives students purchasing power for campus cuisine: meals, late-night snacks, vegetarian, Kosher, stir-fry, boardwalk fries and more, plus (plastic) cash on hand for off-campus pizza delivery, Chinese buffet, burger joints, sushi, upscale Italian and dozens of other options, including grocery stores and coffee shops.
Fueled up healthy or fortified with junk food, students can swipe their RowanCard to buy textbooks, entertainment (axe-throwing, anyone?), eyeglasses, massages, comic books, haircuts, new tires
and an appointment with an orthopedist. The list goes on, of course, making the card more than just a college ID.
---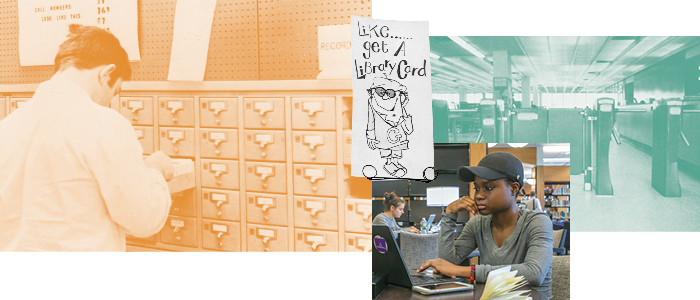 Like......somebody sketched a poster to promote card-carrying for library privileges in '69, back when the books were in Savitz Hall, photocopying was free and the Dewey Decimal System ruled the racks.
Card catalogs are long gone, but 2019 library patrons in Campbell can check out bound books, as well as e-books, that they track down through the online library search system. They can use Campbell lab computers or campus WiFi to connect their laptops and print from their phones for a dime per page.
---

Buying textbooks in 1969 added about $100 to students' annual expenses and required a visit to Memorial Hall, but offered little in the way of window shopping or modern retail therapy.
Hardbacks and blue books are still on bookstore shelves, but now Barnes & Noble serves campus and community from the heart of Rowan Boulevard. The draw includes a Starbucks Cafe, textbook rentals
and e-books, Rowan-branded apparel, New York Times bestsellers, laptops, boutique beef jerky and temporary tattoos sporting the Prof mascot, of course.
---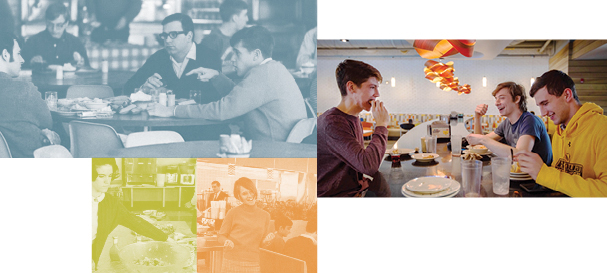 Fifty years ago, a square meal and a snack came from two GSC options: Winans Hall (now home of the Wellness Center) and Memorial Hall (now the tech hub). In Memorial, the Snack Bar's sound track came from a juke box filed with vinyl hits including "Sweet Caroline," "A Boy Named Sue," "Bad Moon Rising" and "I Can't Get Next to You."
Wandering into Rowan eateries today guarantees options at more than a dozen locations on the main campus, plus a food truck and Einstein Bros. Bagels. And the music menu: a mash-up of
the music that matters from WGLS and earbuds full of Spotify and Pandora faves.
---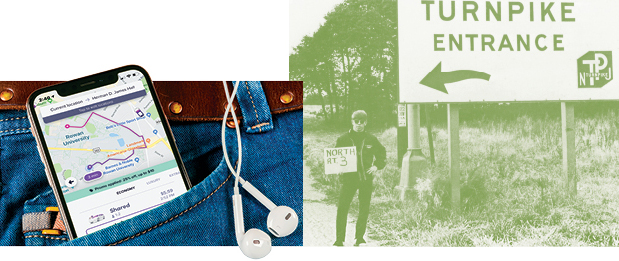 For decades, hitch-hiking or posting flyers on bulletin boards to get to Philadelphia for a show or go home for the weekend made travel possible for many of the carless on campus ("Need a ride to Neptune Thursday night. Will share gas."). Now, after years of old-school carpooling, 2019 ride-sharing—without the benefit of a helpful suitemate's wheels—means Uber or Lyft. With a couple swipes at the app, students call a car and driver for a ride, the digital alternative to inking a destination in Magic Marker on the back of a pizza box.
---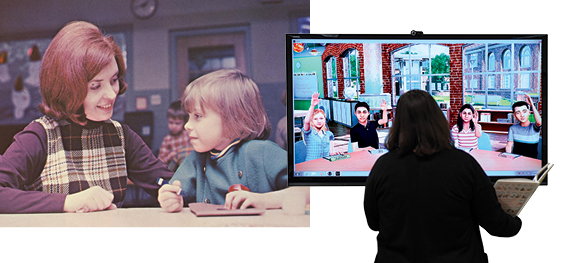 The first nine feature pages of the '69 Oak splurged on the only color photos in the book—big, photojournalistic-style images documenting the life of a Kindergarten-Primary major during her student teaching days, "the high-water mark of our four years here," the yearbook said. Mary Reeves '69 represented all GSC's future teachers in the last year that all Glassboro students would be education majors, testing their "potential as teachers," as the story put it.
In 2019, Rowan enrolls more than 19,500 students in seven colleges and five schools. Education majors still do student teaching, but with the advantage of 21st century technology that helps them practice teaching techniques on a virtual classroom of child avatars. The computer-generated kids squirm in their seats and ask their flesh-and-blood teacher for help, only sometimes raising their hands. The high-tech resource supplements Rowan's hallmark curriculum, preparing teachers for the challenges of teaching in today's classrooms.
---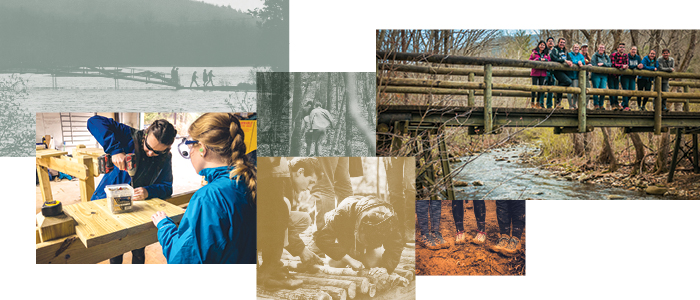 Every GSC junior—all were education majors pre-1970—spent a week in the wilds of Stokes State Forest in Sussex County. The idea: put aspiring teachers in the wilderness to learn how to instruct their future students about science, how to solve problems, build rapport and serve their community. Junior math education majors did all that in the course of their spring week 50 years ago when they planned and built a footbridge across a previously uncrossable stream in the woods.
This year, bridge-building continued with students on an Alternative Spring Break trip to work on trail maintenance in Virginia's Natural Bridge State Park. Elly Thomas (left) and Tyra Gwalthney made the mid-March trek—and made a difference for hikers and themselves.